Jacks open season Friday night at Tug Valley
By Pat Hanna
The Nicholas Chronicle
The Richwood Lumberjacks will open their 2014-15 season on Friday night, Dec. 12, when they make the long trip to Mingo County to take on perennial small-school power Tug Valley.
It could be an early measuring stick for the Jacks, who return six of their top seven players from last season.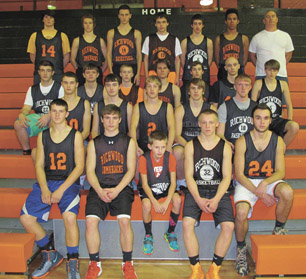 The 2014-15 Richwood High School Lumberjack basketball team includes (front row, from left) Griffin Snyder, Zach Cable, manager Aiden Miller, Caleb Clendenin and Devin Holcomb; (second row, from left) Braden Johnson, Josh Kidwell, Levi Mowery, John Bard and Ben Beaver; (third row, from left) Bryar Spencer, Shane Lipps, River Myers, Leon Buettner, Dalton Myers, Shawn Griffith and Justin Ritchie; and (back row, from left) Justin Hamrick, Aaron Hughes, Nathan Bayless, Hunter Peyatt, Jordan Kitzmiller, Caleb Hanna and coach J.B. Miller.
Senior guards John Bard and Levi Mowery are back for their third seasons as full-time starters, and two other seniors, forward Braden Johnson and guard Josh Kidwell, have starting experience dating back to their sophomore years.
A fifth senior, 6-4 center Ben Beaver, started most of last season.
The 6-0 Bard led the Lumberjacks in scoring last season with a 16.2 average and earned honorable mention on the Class A All-State team.
Mowery, who's 5-10, averaged nearly 9 points per game in 2013-14.
"They would be the two leaders," RHS coach J.B. Miller said. "Our game's going to be geared off what both of them do."
Each can play either guard position, as can the 5-10 Kidwell, who can spot up from the outside and possesses a solid floor game.
"Kidwell won't do anything he can't do," Miller said. "He plays within his abilities."
Bard, Mowery and Kidwell give Miller the option of having three experienced guards on the floor at the same time.
The 6-2 Johnson will occupy the four-spot after averaging 5.3 points a game last season.
"He can shoot the three, but he seems to be better 8 to 10 feet from the basket," Miller said. "He can be the difference in rebounding and putbacks. He always seems to hit the big shot when we need it."
Miller is hopeful that Beaver can fill the rebounding void following the graduation of center Ben Weber, who averaged 13.6 points per game last season and received All-State honorable mention.
Beaver averaged 6.4 points per game last season.
"He can be a good rebounder," Miller said. "I'm also expecting him to go to the free throw line a lot."
Lady Grizzlies move to 2-0 with win at Richwood
By Pat Hanna
The Nicholas Chronicle
Nicholas County girls' basketball coach Tom McGirl says last year's 9-9 record and early exit from postseason play didn't sit well with his players.
"I think the kids are really hungry," he said. "They'd like to get back into a tournament team."
NCHS' Alexis Brown puts up a shot against Richwood's Hannah Green.
March, of course, is still a few months and a lot of games away, but the Lady Grizzlies are off on the right foot.
They completed the opening week of the regular season last Friday night, Dec. 5, with their second straight road win, a 65-42 victory over county rival Richwood before a good crowd at the Woodshed.
NCHS, which won at James Monroe 56-39 in its opener three nights earlier, was set to play its first home game on Wednesday night, Dec. 10, against Princeton.
McGirl believes if his team executes offensively, and plays defense and rebounds "on a consistent basis, we're going to be a tough out."
Last Friday night, Nicholas County outrebounded Richwood 54-34 and forced 21 turnovers.
"I thought we did a better job on the glass than we did in our first game," McGirl said.
The rebounding difference and turnovers were not lost on Jeff Chambers, who was making his Richwood coaching debut.
"Their defensive quickness caused 21 turnovers," he said. "That was definitely a determining factor. We need to rebound better and take care of the ball.
"Our first game was a tough game against a really good, seasoned opponent," Chambers added. "We played hard and learned a lot. I saw a vast improvement from our scrimmage game (on Nov. 22 against Wirt County) to this game. It didn't look like the same team."
Nicholas County never trailed in the game.
The Lady Grizzlies used an early 16-2 run to take a 21-4 lead after one quarter.
Their lead grew to 28-8 early in the second quarter, and they scored the final 9 points of the quarter for a 41-12 halftime advantage.
"They jumped out quick," Chambers said. "Our girls were excited after the JV win, but when we came out and got down, it drained us pretty quick."
Nicholas County's biggest lead was 37 points. That came at the 4:07 mark of the third quarter when senior guard Mykenzie Martin converted a three-point play to make it 51-14.
NCHS boys defeated in scrimmage
games; start season this week
The Nicholas County High School Grizzly basketball team faced two strong teams last week in scrimmage games played to culminate preparation for the regular season which begins this week.
The Nicholas County High School Grizzly basketball team, front, from left, Nick Nutter, Kaleb Groves, Seth Trahan, Devin Brown, Elijah Dempsey, Justin Wright, Chad Hayes, Isaac Sergeon, Dominick LeRose and Jacob Hopkins. Back, from left, Jacob Grose, Ryan Parker, Nathan Stewart, Tanner Williams, Erik Moore, Marshall Newlon and Caleb Simms.
In their first taste of opposition, the Grizzlies scrimmaged perennial Class AA power Wyoming East at New Richmond on Tuesday evening, Dec. 2. The Warriors defeated the Grizzly varsity in all four quarters played.
In the jayvee game, the Warriors were also victorious in each of the quarters.
Against strong Class A Gilmer County at home on Thursday evening, Dec. 4, the visiting Titans won all four quarters against the Grizzlies.
"We looked better against Wyoming East than we did against Gilmer County," said NCHS Head Basketball Coach Brian Phipps. "We need to work on hustle plays."
The Grizzly jayvee team won one of three quarters played against Gilmer County.
NCHS opens the regular season on the road on Wednesday, Dec. 10, at 7:30 p.m. against Herbert Hoover at Falling Rock. The Grizzlies will host Sissonville on Saturday, Dec. 13, at 5 :30 p.m. and host Clay County on Tuesday, Dec. 16, at 7 p.m.
NCHS girls begin season with win
The Nicholas County High School Lady Grizzly basketball team opened the season on a successful note with a 56-39 victory over James Monroe on Tuesday evening, Dec. 2, at Lindside.
The Nicholas County High School Lady Grizzly basketball team, front, from left, Alyssa Chapman, Alexis Brown, Mykenzie Martin, Whitney Robinson, Kaley Deal, Courtney Taylor and Brooklynn Loss. Back, from left, Alyssa Woods, Jordan Slevin, Zoe Spencer, Alexis Nicholas, Amanda King, Kristen Woods, Elena Strader, Maggie Dempsey and Grace Underwood.
The two teams pretty much traded points in the first quarter which ended with NCHS up 15-13.
NCHS took control in the second quarter when they dominated on both ends of the floor and went on a 20-4 run to lead 35-17 at halftime.
The third quarter was nearly even with NCHS having a slim 11-10 margin to make it 46-27 with one quarter remaining.
The Lady Mavericks managed to outscore Nicholas County 12-10 in the fourth quarter to make the final margin 17 points.
Senior guard Mykenzie Martin paced NCHS with 23, which included an 18 of 23 performance from the foul line.
Whitney Robinson was also in double figures with 11 points followed by Alexis Brown with 8. Rounding out the scoring were Amanda King with 5 points, Brooklynn Loss 4, Zoe Spencer 3 and Courtney Taylor 2.
Robinson had 3 treys and Martin and Spencer 1 each.
Robinson had 10 rebounds and Brown and King 9 each. Martin had 6 steals and 3 assists.
NCHS was 29 of 39 from the free throw line.
James Monroe's high scorer was Cassie Weikle with 10 points.