Local basketball camp supports WVU Children's Hospital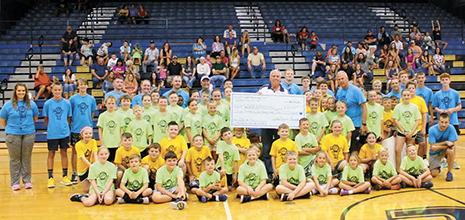 Alley-Oop basketball camp youngsters, staff, and camp director Steve Ferguson present $6,200 check to Steve Antoline for the WVU Children's Hospital.
The first Summersville "Alley-Oop" Basketball Camp was held July12-16 at the Nicholas County High School gymnasium.
Summersville businessman, West Virginia University graduate and longtime WVU supporter Steve Ferguson was the organizer and director of the camp, which attracted approximately 50 kids in third through sixth grades.
One of the highlights of the camp came on Friday afternoon when Ferguson, camp volunteers and the youngsters presented a check to Steve Antoline, of Mount Lookout, for $6,200 for the new state-of-the-art WVU Children's Hospital that will soon open. Antoline and Ferguson have been among the leaders of the fundraising efforts for the new children's hospital the past few years.
The $6,200 came from donations from the families of the youth campers along with some outside donations.
The purpose of the camp was to give local children the opportunity to learn the fundamentals of basketball.
---
State Tournament action
Summersville 11-and 12-Year-Old All-Stars lose twice
The Summersville Little League 11- and 12-Year-Old All-Star baseball team went 0-2, losing both games in the West Virginia 11-and 12-Year-Old All-Star Baseball State Tournament in Lewisburg July 17-18.
Summersville was defeated 18-3 by Logan in four innings on Saturday, July 17, and were eliminated after being blanked 3-0 by Central Greenbrier in the loser's bracket on Sunday, July 18, in the eight-team double elimination tournament.
Opening round
Logan 18 Summersville 3
A big nine-run second inning keyed the Logan victory over Summersville in a game halted after four innings by the 10-run mercy rule.
Summersville started strong and took a 3-0 led in the bottom of the first inning on a three-run home run blast by Braden Johnson.
Summersville was able to get two outs on Logan before the roof fell in and Logan was able to score nine runs in the inning to take a 9-3 lead. The majority of Logan's runs were the result of Summersville fielding errors.
Logan added five runs in the top of the third inning and completed the scoring with four runs in the top the fourth inning.
Johnson was 2 for 2 at the plate for Summersville.
Eli Rader pitched one inning for Summersville with one strikeout. Channing Sarver pitched one inning with one strikeout, Brady Lilly pitched one inning with no strikeouts and Owen Neff pitched one inning with two strikeouts.
| | | | | | | |
| --- | --- | --- | --- | --- | --- | --- |
| Logan | 0 | 9 | 5 | 4 | - | 18 |
| Summersville | 3 | 0 | 0 | 0 | - | 3 |
---

Local teams to play in New River CTC Invitational
Mark your calendars for the 4th Annual New River CTC Invitational high school basketball tournament on Jan. 5-8, 2022, with more than 24 teams competing at the Beckley-Raleigh County Convention Center. 
"This year was an amazing success and next year will be even better," said Michael Green, Executive Director of New River Community and Technical College Office of Institutional Advancement and Foundation. 
Confirmed boys teams for 2022 in Class A include the Richwood Lumberjacks and the Webster County Highlanders. 
Next year's invitational will welcome several 2021 All-State players, including Rye Gadd, of Webster County.  
"The event has grown beyond my expectations. We have tried to provide a quality experience for the teams and spectators," Green said. 
More than $25,000 in student scholarships will be awarded to participating student athletes. 
---
NCHS Volleyball Camp July 26-27
Nicholas County High School will host a volleyball camp July 26-27 from 9 a.m. to 12 noon at the NCHS gymnasium.
The camp is for ages 7-18 and the cost is $25 per participant. Make checks payable to Nicholas County High School.
Instructors for the camp will be NCHS coaches and players. For more information, call NCHS head volleyball coach Marie Shaffer at 304-651-1163.
---