Lady Jacks come up short in bid for sectional top seed
By Pat Hanna
The Nicholas Chronicle
With a chance to earn the top seed in the sectional tournament, the Richwood Lady Jacks came up short.
Fayetteville secured the No. 1 seed and an opening bye in the sectional with a 2-0 victory on April 25 at Pratt Park, its second win over Richwood this season.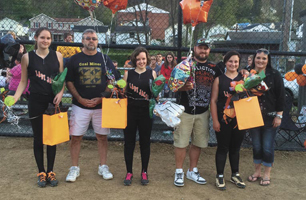 Richwood's three senior softball players were recognized on April 25 at Pratt Park. Third baseman and team captain Tristan Hayhurst (right) has been a four-year player for the Lady Jacks. She is pictured with her parents, Scott and Stacy Hayhurst. Reserves Felicitas Rougoor (left) and Isaline Vincent are exchange students from Germany and Belgium, respectively, and are in their first year with the program. They are pictured with their host father, Ferell Griffith.
It was the first time the Lady Jacks had been shut out in 46 games, dating back to a 12-0 loss to Fayetteville in sectional tournament play two years ago.
It also started a week that saw Richwood go 0-3 to finish the regular season with a 16-6 record. The Lady Jacks lost 12-4 at Class AA power Independence on April 26 before falling 7-1 to Nicholas County on April 28 at Pratt Park.
A scheduled game at Shady Spring on April 27 was cancelled because of weather.
Second-seeded Richwood was scheduled to face No. 3 seed Midland Trail in the opening game of the three-team, double-elimination Class A Region III, Section 2 tournament on May 3 at Fayetteville Town Park. The loser was to meet Fayetteville in the May 3 nightcap.
The tournament was scheduled to continue on May 4.
Richwood defeated Midland Trail twice during the regular season.
Fayetteville 2
Richwood 0
The Lady Pirates scored single runs in the second and seventh innings to back the four-hit pitching of Ashley Fridley and win for the 13th time in 23 games.
Fridley struck out five batters and walked one.
Richwood's Kora Younts nearly matched Fridley's performance. Younts allowed five hits while striking out seven and walking one.
Fayetteville took a 1-0 lead in the second. Madison Prichard singled to right, stole second and scored one out later on Samantha Holbrook's double to right-center.
It stayed that way until the seventh when the Lady Pirates added an insurance run.
Prichard led off with a walk, stole second and scored her second run on Carrie Taylor's double to right-center.
Fayetteville then threatened to add to its two-run lead. Holbrook singled to right, sending Taylor to third, before advancing to second on defensive indifference.
But Younts got out of the jam. She struck out Courtney Hamilton, snagged a line drive off the bat of Cassidy Roles and then fanned Fridley to end the inning.
Richwood had its chances.
NCHS baseball team goes 3-0 during week
The Nicholas County High School Grizzly baseball team won all three games they played last week to improve their record to 15-7 on the season.
NCHS won 7-6 at home over Clay County on Monday evening, April 25; defeated Braxton County 6-4 at home on Friday evening, April 29; and blanked Midland Trail 14-0 at home on Saturday afternoon, April 30.
NCHS will host Richwood on Wednesday, May 4, at 5:30 p.m. and host Westside on Saturday, May 7, at 2 p.m.
The Grizzlies will play their first game in the Class AA Region IV Section 1 tournament on Wednesday, May 11, at 6 p.m. at Clay when they play the winner of the Tuesday evening, May 10, contest between Clay County and Herbert Hoover in the three-team double-elimination tournament.
Nicholas County 7
Clay County 6
A run in the bottom of the seventh inning by the Grizzlies proved to be the difference in the game in the win over the Panthers.
Nicholas County took a 1-0 lead in the bottom of the first inning when Tate Mayes slugged his third home run of the season, a solo shot.
The Grizzlies made it 4-0 with three runs in the bottom of the second inning. Josh Pritt doubled and scored on a double by Jared Gregory. Pinch-runner Gracin Young came home on a double by Jared Sagraves and then Nick Nutter singled in Sagraves.
The Grizzlies went ahead 6-0 with two runs in the bottom of the fifth inning. Mayes walked and was replaced by pinch-runner Dominick LeRose who advanced third on a walk to Jacob Grose and a wild pitch. Josh Pritt singled in LeRose and Gregory singled in Grose.
Clay County came back to tie it 6-6 with six runs in the top of the sixth inning.
NCHS scored the winning run in the bottom of the seventh inning with one out when Mayes singled and was replaced by pinch-runner LeRose who advanced on a sacrifice by Grose and came home on a double by Josh Pritt.
Gregory was the starting pitcher for NCHS and went 5 2/3 innings with three strikeout and six hits surrendered. Isaac Sergeon was the winning pitcher in relief going 1 1/3 innings with one hit given up and two strikeouts.
NCHS wins rivalry game over Richwood
By Pat Hanna
The Nicholas Chronicle
Nicholas County softball coach Marie Shaffer was encouraged by, among other things, her team's hitting and defense heading into post-season tournament play.
Richwood coach Bill Little was searching for answers in those same two categories.
The Lady Grizzlies came up with some timely hits and played steady defense to back the pitching of Kati Lilly and defeat the Lady Jacks 7-1 last Thursday evening, April 28, at Pratt Park. Because of an earlier cancellation, it was the only meeting between the county rivals this season.
"We're hitting the ball better, and our defense is getting better," Shaffer said after her team won for the ninth time in 22 starts.
Nicholas County finished with seven hits off Richwood pitcher Kora Younts.
Brennah Groves, the No. 9 hitter in the lineup, delivered a two-run double, Olivia Stear doubled to drive in another run and catcher Amanda King collected two hits and an RBI.
The Lady Grizzlies also played error-free ball after allowing an unearned run in the first inning.
Richwood also had seven hits, all singles. RHS was unable to string more than two hits together in any one inning.
The Lady Jacks also committed six errors, four coming in the second inning when Nicholas County put three unearned runs on the board. Five of the Lady Grizzlies' runs were unearned.
RHS baseball team concludes home portion of schedule
By Pat Hanna
The Nicholas Chronicle
The Richwood Lumberjack baseball team wrapped up the home portion of its schedule last week, losing to Valley Fayette on April 25 and falling to Clay County on Senior Day on April 29.

Seniors on the Richwood baseball team were recognized on April 29 at Pratt Park. Pictured (from left) are scorekeeper Erin Allen; Mikey Adkins, shown with his parents, Kenny and Misty Adkins, and his brother, Zach; Logan Cox, shown with his mother, Debbie McGeeney; Griffin Snyder, shown with his parents, Mandy and Sammy Snyder; and Phoenix Evans, shown with his parents, Stephany Moore and Richard Evans.
The Jacks also dropped a decision on the road at Oak Hill on April 30.
A scheduled game at Fayetteville on April 27 was cancelled because of weather.
Richwood (5-15) was set to conclude the regular season with road games against Meadow Bridge on May 2, Webster County on May 3, Nicholas County on May 4 and Montcalm on May 6.
A home game against Calhoun County on May 5 was cancelled because of a scheduling conflict involving Calhoun.
The Class A Region III, Section 2 tournament begins next week. The pairings were to be finalized this week, but RHS coach Mark O'Dell said he expected the Jacks to play Midland Trail in the tourney opener at Fayetteville.
Richwood and Midland Trail split their two regular-season games.
Valley Fayette 9
Richwood 2
Scott Nichols doubled in a run in the second inning and Phoenix Evans delivered an RBI single in the fourth to account for Richwood's scoring.
Nichols and Evans each had two hits in the game. Tyler Cornwell and Logan Cox also had singles.
The Lumberjacks left seven runners on base.
Cox was the starting pitcher and went six innings. Jacob Cogar and Evans both pitched in the seventh.
NCHS girls softball goes 4-1 during week
The Nicholas County High School Lady Grizzly softball team won four of their last five games last week to finish the regular season 11-14 overall heading into this week's sectional tournament.
NCHS girls softball Senior Night was held on Monday evening. April 25, prior to the game versus Clay County. Seniors and their parents recognized were Shelbey Groves, Kati Lilly, Madalyn McCoy, Danielle Payne, Amanda King, Kinly Coleman, Sammi Sams and Kilea Hayhurst. The senior girls received flowers and gifts from their underclassmen teammates.
NCHS blanked Clay County 9-0 on Senior Night at home on Monday evening, April 25; won 7-1 over Richwood at Pratt Park on Thursday evening, April 28; won 6-4 over Oak Hill on Friday evening, April 29, in a game completed at Oak Hill after being suspended by rain in Summersville on Tuesday evening, April 26; and defeated Gilmer County 11-3 and lost to Greenbrier East 3-1 both on Saturday, April 30, at home.
Nicholas County 9
Clay County 0
Five runs by the Lady Grizzlies in the sixth inning keyed the shutout win over the Lady Panthers in the Senior Night contest that was halted after six innings by the eight-run mercy rule.
Nicholas County took a 2-0 lead in the bottom of the first inning when Danielle Payne delivered a two-run single that brought in Alexis Nicholas who singled and Amanda King who had reached on a fielder's choice earlier in the inning.
In the bottom of the fourth inning, the Lady Grizzlies scored twice to go up 4-0. Shelbey Groves tripled and scored on a passed ball. Sammi Sams singled, advanced on a passed ball and came home on a single by Kati Lilly.
NCHS erupted for five runs in the bottom of the sixth inning. Groves, Kinly Coleman and Sammi Sams all walked to load the bases and all three came in when Lilly reached on an error. Madalyn McCoy stroked a two-run double to bring in Nicholas who had walked and Lilly.
Lilly was the winning pitcher for Nicholas County giving up three base hits with three strikeouts in six innings.