Lady Jacks unveil new field with sweep of Webster
By Pat Hanna
The Nicholas Chronicle
A dream became reality for the Richwood High School softball team on April 1.
The Lady Jacks played their first games on their new field at Pratt Park, sweeping a doubleheader from Webster County by identical 10-0 scores.
The Field of Dreams project, spearheaded by RHS assistant coach Bill Little, was two years in the making.
The Richwood High School Lady Jack softball team shows off their new softball field, along with the new sign donated by Image Advertising.
Companies and individuals who contributed to the project included: Lumberjack Athletic Club, City of Richwood Park Board, Richwood Volunteer Fire Department, Nicholas County Board of Education, Richwood High School, Amick Welding (Stu Amick), Jimmy Younts, Chase Reel, Mark O'Dell, White Auto Sales, Alliance Consulting, L.J. Hughes and Sons Inc., Larry Marshall, Jimmy Foster, Waylon Kincaid, Hardware That's Us, Lowe's of Summersville, Darrell Johnson, Circle M Excavating (Jimmy McMillion), Thomas Bailes Construction, Frontier Communications, Cox Industries Inc., Complete Lighting Source Inc., Boxley (Lewisburg office), Alpha Natural Resources (Bob Pendry and Jon Brown), 5-Star Inspection (Steve Carr), Mumsey's, State Electric Co., Alex Energy (line/environmental crew), Laurel Creek Hardwoods (Sharon Glasscock), Collins Hardwood, Mon Power (Greg Shreves and others), MSM Enterprises Inc. (Marty Merrill), Dr. Robert and Jillian (Little) Williams, Northside Development, Spartan Sporting Goods, Craig Chapman, Craigsville Little League, Protech (John Smallwood), Jimmy Little, Lutrisha Little, Tamara Little (Bill Little's wife), Memphis Net and Twine Co., Neel's Fence Co., Image Outdoor Advertising of West Virginia (Jeromy Rose), Ryan Campbell and Jake Davis.
Also last week, Richwood swept a doubleheader at Summers County on March 31 by scores of 8-0 and 11-2, and defeated Oak Hill 6-1 at home on April 2 to raise its record to 6-1. A scheduled home doubleheader with Fayetteville on April 3 was postponed because of rain.
Grizzly diamondmen go 2-1 during week
The Nicholas County High School Grizzly basketball won two of three games last week to improve to 2-3 on the season.
NCHS won 23-1 over Valley Fayette on the road on Monday evening, March 30; was defeated 6-3 by Greater Beckley Christian at Beckley on Tuesday evening, March 31; and won 5-1 over Richwood at Pratt Park in Richwood on Thursday evening, April 2. Details of the Richwood game can be seen elsewhere in the Chronicle sports section.
The Grizzlies will conclude play in the Fayetteville Wooden Bat Tournament at Linda K. Epling Stadium in Beckley on Wednesday or Thursday of this week. They will host Herbert Hoover on Monday, April 13, at 5:30 p.m.; host Valley Fayette on Tuesday, April 14, at 5:30 p.m.; and host Clay County on Thursday, April 16, at 5:30 p.m.
Nicholas County 23
Valley Fayette 1
Nicholas County scored at least two runs in all but one inning against the Greyhounds in the contest halted after five innings by the 10-run mercy rule.
The Grizzlies took a 2-0 lead in the top of the first inning. Tate Mayes singled in Jacob Grose who had walked earlier in the inning. Wil Mayes reached on an infield single and scored on a fielder's choice by Jacob Hopkins.
Valley scored their only run of the game in the bottom of the first inning when they cut the lead in half to 2-1.
The Grizzlies added four runs in the top of the second inning to go ahead 6-1. The key hit in the inning was a single by Tate Mayes. Grose and Wil Mayes each drove in a run with a sacrifice fly. The other run was scored on a bases-loaded walk.
NCHS went ahead 7-1 in the top of the third inning when Isaac Sergeon walked, advanced on a single by Trey Milam and came home on a single by Matt Bennett.
Five runs by the Grizzlies in the top of the fourth inning made it 12-1. Key hits in the inning were a two-run triple by Bennett and a two-run single by Grose. Sergeon also batted a run in with a single.
The Grizzlies exploded for 11 runs in the top of the forth inning to complete the scoring.
Bennett and Jared Lyons each singled in two runs in the outburst. Wil Mayes drove in a run on an infield single, and the other runs were scored on bases loaded walks.
Tate Mayes was the winning pitcher for the Grizzlies going 4 innings with two hits surrendered and five strikeouts. Jared Gregory pitched a hitless inning with one strikeout.
Jacks fall to Grizzlies, lose two other games
By Pat Hanna
The Nicholas Chronicle
The Richwood High School baseball team lost three games last week to fall to 1-4 on the season, but coach Mark O'Dell was not discouraged.
"I'm really not happy losing, but I'm happy that we're competitive," he said. "We've been right there. We've been in every game we've played. The Oak Hill game (a 10-0, six-inning loss) looks bad, but it was 2-0 in the bottom of the fifth, and they're a pretty good-size Class AAA school.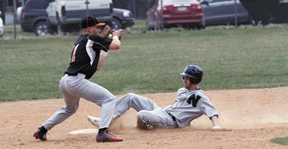 Richwood's Logan Cox tries for the out as Grizzly Jacob Hopkins slides into second.
"We just need to get over the hump."
In addition to the Oak Hill game on April 1, the Lumberjacks lost 7-5 at Fayetteville on March 30, and fell to Nicholas County 5-1 at Pratt Park on April 2.
Richwood was scheduled to host Pocahontas County on April 9 before traveling to Greenbrier West on April 10. The Jacks will then visit Valley Fayette on April 13 before hosting Fayetteville on April 15.
Fayetteville 7
Richwood 5
The Lumberjacks left two runners on in the first inning and left the bases loaded in the fifth.
"It was a game we probably should have won," O'Dell said.
Fayetteville took a 4-0 lead in the bottom of the first off RHS pitcher Ben Beaver on two hits, two walks and a hit batsman.
Richwood scored a run in the second when John Bard walked and scored on an RBI single by Johnny Clevenger.
The Jacks made it 4-2 in the third when Casey O'Dell singled and eventually scored on an RBI single by Logan Cox.
The Pirates added two more runs in the bottom of the third.
Cox homered in the fifth to make it 6-3, but Fayetteville scored another run in the bottom of the inning for a 7-3 lead.
Phoenix Evans hit a home run in the sixth, and the Jacks scored again in the seventh when Chris Stowers' RBI single scored Clevenger.
NCHS girls win twice, tie one
The Nicholas County High School Lady Grizzly softball team played five games last week but still managed to go .500 with a 2-2-1 record.
NCHS deadlocked 2-2 with Fayetteville at Fayetteville on Monday evening, March 30; topped Clay County 26-7 at Clay on Tuesday evening, March 31; and won 20-1 over Independence at Independence on Wednesday evening, April 1; before losing twice in the Chapmanville tournament including 2-1 to Scott and 10-0 to Chapmanville on Saturday, April 4. Statistics on the two games in the Chapmanville tournament will be included in nest week's issue.
NCHS will play at Richwood on Wednesday evening April 8; host Roane County on Thursday, April 9; host North Marion and Wyoming East on Friday evening, April 10; host Ritchie County on Saturday, April 11; host Herbert Hoover on Monday, Apriul 13; play at Liberty Raleigh on Tuesday, April 14; and host Clay County on Wednesday, April 15.
Nicholas County 2
Fayetteville 2
The two teams battled to a 2-2 tie in the contest halted after nine innings because of darkness.
Nicholas County took a 2-0 lead with a pair of runs in the top of the third inning. Alexis Nicholas singled, stole second and came home on a double by Madeline McCoy. Whitney Robinson's triple brought home McCoy with the other run.
Fayetteville scored both of their runs in the bottom of the fourth inning.
Robinson pitched nine innings for NCHS giving up five base hits with 15 strikeouts.
Richwood's Mowery sets school record in 110 hurdles
By Pat Hanna
The Nicholas Chronicle
Richwood senior Levi Mowery set a school record in the 110-meter hurdles during the Richwood Invitational on April 2 at Dean Memorial Field.
Mowery actually finished second to Liberty Raleigh standout Tre McDowell in the race, but his time of 15.81 seconds broke the school record of 16.11 set in 2004 by Cody Reinhold.
McDowell won the race with a time of 15.50. Richwood's Nathan Bayless was third in 17.89.
McDowell and Mowery also finished one-two in the 300 hurdles. McDowell had a time of 42.71, while Mowery crossed the finish line in 43.16.
Meanwhile, Caleb Hanna placed second in the 1,600 meters with a time of 5:56.
Kenneth Metheney was fourth in the long jump at 15 feet, 4 inches, and teammate Leon Buettner was fifth at 15-3.5
Caleb Truman was sixth in the shot put with a distance of 35 feet, 2 inches.
Richwood finished third in the 4 x 400 relay (4:23), third in the shuttle hurdle relay (1:09.91) and sixth in the 4 x 800 relay (12:44).
Pocahontas County won the boys' meet with 145 points, followed by Liberty Raleigh (86), Meadow Bridge (80), Greenbrier West (65), Midland Trail (52), Richwood (51) and Fayetteville (34).
On the girls' side, Richwood's Brianna Farnsworth was first in the high jump at 4 feet, 6 inches, and teammate Amanda Starcher was first in the shot put (27-5).