Jacks fall to Pocahontas County; trip to Van up next
By Pat Hanna
The Nicholas Chronicle
Chad Hall knew Pocahontas County was better than its 1-3 record indicated.
The Richwood coach knew the Warriors' three losses, two of them on the road, were to teams – No. 1 East Hardy, Moorefield and Pendleton County – that would be in the 16-team Class A playoff field if post-season action started today.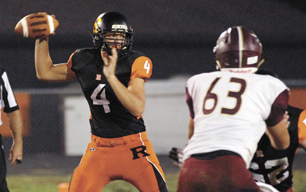 Richwood quarterback Shane Lipps looks for an open receiver during the Jacks' loss to the Warriors.
"We knew coming in they were a good football team," Hall said, noting Moorefield was No. 4 before losing to South Harrison. "We told our guys all week that we had to execute extremely well."
His opinion of the Warriors didn't change after they rolled into Richwood last Friday night, Sept. 23, and left with a 54-12 victory over the Lumberjacks (0-5) on Homecoming night at Dean Memorial Field.
"The bottom line is we played a good team," he said.
Quarterback Wyatt Workman accounted for six Pocahontas County touchdowns and 244 total yards. The 6-2, 170-pound senior, who helped lead the Warriors to the Class A playoffs last year, completed 8 of 11 passes for 152 yards and three touchdowns, and ran for 92 yards and three more TDs on 9 carries before going to the bench late in the third quarter.
"He throws the ball well, but I think he might be a better runner," Hall said. "We knew if we let him outside he would cause us some problems."
Pocahontas County's first four touchdowns came after they were given short fields. The Warriors led 34-0 at halftime, their longest drive covering 55 yards.
Two of their three second-half scoring drives began in Richwood territory.
"I thought our defensive line played pretty well," Hall said. "They executed our game plan up front."
Hall praised the play of Elijah Davis, Antonio Reitman, Isaac Amick, freshman Isaac Boone, Braden Snyder and Jacob Cogar.
"They allowed our inside linebackers to play free all night," Hall said. "Wil Bragg was all over the place.
NCHS boys and girls runners-up
in Battle Run Invitational
Both the Nicholas County girls and boys cross country teams finished second in their division in the annual Battle Run Invitational cross country meet held Saturday morning, Sept. 17, at the Battle Run Recreation area at Summersville Lake and Dam.
Standout NCHS runner Jackson Reed leads all runners across the first of two dikes included in the course.
It was the largest race in the history of the event with just under 600 high school and middle school runners participating.
NCHS will run in the George Washington Invitational on Thursday afternoon, Sept. 29, at Tornado and run in the HOKA One One meet, a dual competition with Woodrow Wilson High School in Beckley on the school track on Tuesday evening, Oct. 4.
Girls' results
Nicholas County scored 45 points and was edged by Woodrow Wilson, which took the girls' team title with 33.
NCHS placed four girls in the top 11 of 126 finishers. Lucianna Martin was third overall in a time of 23 minutes, 34 seconds over the rugged 3.1-mile course. Placing fourth was Michaela O'Dell in 23:57 and Madison Kelbaugh was fifth in 24 minutes. Alyssa Woods was 11th in 24:50.
Also running for NCHS were Lacey Beam 25th in 26:15, Illysa Sergeon 34th in 26:59, Emily Burkholder 48th in 28:42, Molly Prutsok 50th in 28:48, Emily Miller 76th in 32:07 and Makayla Hanshaw 79th in 32:22.
Maddy Childs of Woodrow Wilson was the overall girls' winner with a first-place time of 23:02.
Frame, RHS girls win at Spartan Invitational
By Pat Hanna
The Nicholas Chronicle
Madison Frame won her fourth race of the season and Richwood's girls edged host Greenbrier East for the team title in the Spartan Invitational cross country meet on Sept. 24 at Fairlea.
The first-place Richwood High School girls cross country team, including fourth-ranked Madison Frame, left.
Frame won the girls' race by more than 2 minutes over runner-up Grace Henley of St. Albans. Frame covered the 5-kilometer course in 20 minutes, 44.0 seconds. Henley's time was 22:59.7.
Frame was ranked fourth in the state last week among Class AA/A runners by RunWV.com. The RHS senior was the highest-ranked runner from Class A schools.
Frame's win propelled Richwood to the team title. RHS finished with 29 points to Greenbrier East's 30. Princeton was third with 73 points. St. Albans and Capital had incomplete teams.
Richwood competed without sophomore Caitlin Cowell, who, according to coach Rocco Milanese, was sick and stayed home. Cowell was 16th in last week's Class AA/A rankings, fourth among Class A runners.
RHS sophomore Sidney Hacker placed sixth in the race with a time of 24:46.1. Junior Amelia Bard was seventh (24:58.7), sophomore Beke Nikolai was 10th (26:17.8) and freshman Kendra Buck was 19th (32.48.0).
Richwood's girls were 10th in last week's Class AA/A team rankings. Only one other Class A school, Doddridge County, was ranked higher.
Meanwhile, the RHS boys' team finished second in the meet. St. Albans was the team winner with 40 points, followed by Richwood (56), Greenbrier East (71), Capital (81) and Princeton (113).
Richwood's Nicholas Cox placed sixth in the race with a time of 19:42.1. Jacob Mazzella was seventh (20:06.8), Dalton McGeeney was 12th (20:57.4), Caleb Hanna was 13th (20:59.0) and Cody May was 18th (21:59.4).
No. 6 Grizzlies face tough road test
at unbeaten No. 3 James Monroe Friday
After an open date last week, the 4-0 Nicholas County High School Grizzly football team faces a difficult task this week when they play at unbeaten James Monroe, 4-0, on Friday, Sept. 30, at 7:30 p.m. at Lindside.
The undefeated and unscored upon Grizzlies, who have outscored the opposition 152-0 in their first four games, enter the contest at No. 6 this week in Class AA in the statewide West Virginia Secondary Schools Activities Commission (SSAC) ratings while the Mavericks sit at No. 3 in Class AA.
Like the Grizzlies, James Monroe has run roughshod over the opposition thus far this season including a 33-0 shellacking of Wyoming East last Friday evening. They have also had victories over Greenbrier East 34-6, Independence 27-6 and PikeView 52-6.
They are led by quarterback Evan Beasley and running backs Grant Mohler and Devin Johnson, all of whom have scored several touchdowns this season.
"Mohler also takes the direct snap lined up in the wildcat formation," said NCHS Head Football Coach Gene Morris.
Morris added that the Mavericks, who have surrendered just 18 points this session, will mostly usually run a 4-4 defense.
James Monroe won last year's contest 21-6 on their way to the Class AA playoffs.