Sixers top Celtics for Biddy Basketball B Team Title
The Biddy League Tournament champion Sixers B Team
The Sixers B Team defeated the Celtics B Team 24-16 in the championship game to win the Summersville Biddy Basketball League B Team Tournament held Feb. 24-25 and 27-28 at the Summersville Armory and Convention Center Arena.
In the consolation game for third place on Friday evening, the Kings B Team defeated the Bulls B Team 10-4.
In semifinal games on Thursday evening, Feb. 27, the Sixers B Team won over Bulls B Team 25-9 and the Celtics B defeated the Kings B 14-4.
In quarterfinal games played on Feb. 24 and 25, the Celtics B defeated the Bucks B 17-4, the Kings B topped the Warriors B 10-4 and the Bulls B downed the Lakers B 12-7.
Individual trophies were awarded to the top four teams on Friday evening.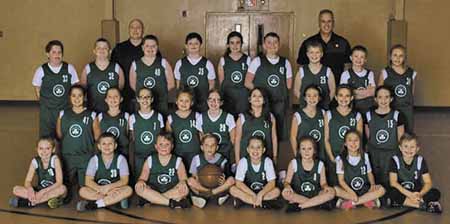 The Biddy League Celtics A Team and runner-up B Team.
Trinity and Jay Amick, pictured recently at the Red Gym in Richwood, celebrate Trinity's selection to the All-State Team.
RHS' Amick named to All State Honorable Mention
Trinity Amick, a junior at Richwood High School, was recently given Honorable Mention to the West Virginia All-State Girls Basketball Team (Class A).
For the 2019-2020 season, team captain Amick had 400 points, 379 rebounds, 16 assists, 33 steals and 30 screens.
She is an Honors Student with a 4.0 GPA, who also plays volleyball and softball.
Amick said it feels amazing to be named to the All-State Team.
"I am beyond excited and so thankful for the acknowledgment from other coaches, who recognized me on their ballots," she said.