Summersville 9- and 10-Year-Old
All-Stars District 8 Runners-up; Advance to States
The Summersville Little League 9- and 10-Year-Old All-Star baseball team finished as runners-up in the District 8 9- and 10-Year-Old All-Star Baseball Tournament last week in Elkins. The runner-up finish advances Summersville to the West Virginia 9- and 10-Year-Old All-Star State Tournament in Chapmanville beginning July 10. District 8 tournament champion Tygart Valley Red also advanced to the state tournament.
The District 8 runner-up Summersville 9- and 10-Year-Old All-Star Baseball Team, front, from left, Ben Marsh, Travis Smith, Cole Brown, Jaxson Morriston, Brycen Morriston, and Dylan Bell. Second row, from left, Andrew Triplett, Alex Pritt, Levi Hellems, Zach Jeckering, Zack Barker and Collin Rock. Third row, from left, Coach Mike Triplett, Manager Robbie Brown and Coach Mike Hellems. 
Summersville was 4-1 in the District 8 double-elimination tournament. Summersville defeated Elkins Blue 15-1 on Sunday, June 21; lost 5-2 to Tucker County on Monday evening, June 22; defeated Tygart Valley White 13-2 on Tuesday evening, June 23; won 5-1 over Elkins Blue on Wednesday evening, June 24; and won 12-4 over Tucker County in the finals of the losers' bracket on Thursday evening, June 25.
Members of the Summersville 9- and 10-Year-Old All-Star Baseball Team are Zack Barker of the Diamondbacks, Dylan Bell of the Orioles, Cole Brown of the Reds, Levi Hellems of the Cubs, Zach Jeckering of the Reds, Ben Marsh of the Cubs, Brycen Morriston of the Reds, Jaxson Morriston  of the Reds, Alex Pritt of the Phillies, Collin Rock of the Cubs, Travis Smith of the Phillies and Andrew Triplett of the Cubs.
The manger is Robbie Brown of the Reds and the coaches are Mike Triplett and Mike Hellems of the Cubs.
Yard sale, live music, health expo on
Scenic Mountain Triathlon agenda
Maxine Corbett
Richwood Editor
The 30th annual version of the Richwood Scenic Mountain Triathlon, scheduled for July 12, will have three added attractions for those who are competing or enjoying associated activities that are planned as part this popular event.
A Community Yard Sale at Richwood City Hall Parking Lot and at private residences around the area will be staged on Saturday, July 11. A map of locations will be available at the parking lot. This activity is sponsored by the Richwood Chamber of Commerce Beautification Committee.
Later in the day, a Community Health Expo and live music will be featured as part of Triathlon pre-registration at the Depot.
The Community Health Expo will be held from 3 p.m. to 7 p.m. at the Richwood Chamber of Commerce Office. The public is invited and urged to take advantage of the health-related information that will be dispensed. Free screenings will be provided by Summersville Regional Medical Center professionals.
The theme of this Expo is "Active WV." Activities will include a flexibility test; a presentation on nutrition by Richwood native Lindsay Williams; vendors with Velocity Sportswear; and a demonstration of "Active Release Technique and Garston" by Eric Cooper, Sports Chiropractor.
In addition, a special guest will be Tom Wood, an Ironman Triathlete and two-time winner of the Scenic Mountain Triathlon who holds the course record. Wood will be in attendance to talk to his fans about the challenges he has faced on race courses.
Providing music will be Back Porch Raven. This band will perform at the Depot on Saturday and at the Cranberry Mountain Nature Center on Sunday. These musicians learned about the Triathlon through a Richwood native. Band members were familiar with Richwood and decided to come to town and play two free concerts. They come to Richwood straight from being a part of the entertainment lineup at the 2015 Charleston-based FestivALL..
Summersville 11- and 12-Year-Old All-Stars
advance to District 8 Tournament finals
The Summersville Little League 11- and 12-Year-Old All-Star baseball team moved into the finals of the District 8 11- and 12-year-old All-Star Tournament by winning the first two games of the tournament being played at Nicholas County Veterans Memorial Park.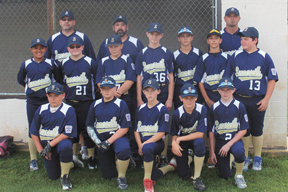 The Summersville 11- and 12-year-old All-Star Baseball Team, front, from left, Hunter Groves, Trey Comer. Jordan McKinney, Levi Brake and Garrett Kesterson. Second row, from left, Isaiah Brooks, J.P. Girod, Caleb Adkins, Briar Elswick, Bryce McClung, Rylee Nicholas and Austin Brown. Back, from left, Coach Tommy Comer, Manager Jim Brown and Coach Jeremy Nicholas.
Summersville blanked Tucker County 19-0 on Sunday evening, June 28, and then shut out Clay County 11-0 on Monday evening, June 29. Summersville will play Braxton County in the finals of the winner's bracket on Wednesday, July1, at 7 p.m. with the winner earning a berth in the State 11- and 12-Year-Old  All-Star Tournament later this month.
Braxton County defeated Elkins 7-6 on Sunday afternoon and won over Tygart Valley 5-3 on Monday evening.
The six-team double elimination tournament continues through Friday, July 3, with both the champion and runner-up advancing to the State Little League Baseball Tournament.
Details of Summersville's win over Clay County will appear in next week's edition of the Nicholas Chronicle.
Against Tucker County, Summersviller scored at least four runs in every inning of the contest, which was halted after four innings by the 10-run mercy rule.
Summersville pitchers Rylee Nicholas, Austin Brown and Garrett Kesterson combined on a two-hit shutout. Nichiolas pitched 1 1/3 innings with no hits and four strikeouts, Brown pitched 1 1/3 innings of hitless ball with three strikeouts and Kesterson surrendered two hits in 1 1/3 innings with two strikeouts.
Nicholas-Summersville Youth Soccer Signups Announced
Parents can sign their child up for another fun, exciting season with Nicholas-Summersville Youth Soccer.
Online registration is now open for the 2015 Fall Season at www.summersvillesoccer.org.
The last date to register online without a late signup fee will be July 24 and a late signup period will run from July 25 to Aug. 1. The late fee will be an additional $10.
They will also have in-person signups on July 11 and 18 from 12 p.m. to 4 p.m. at Hibbett Sports in Summersville.
Registration cost for Under 5-Under 12 Divisions is $50 per player. However, if you sign up more than one child, you will receive a $10 discount on each additional child.
With this registration fee, the child will receive a uniform set which includes jersey, shorts and game socks. Registration cost for our Little Kickers program is $25 and this includes a jersey for each child.
Program ages are Little Kickers (Age 3 by Aug. 1, 2015) and Under 5 and Under 12 (Ages 4 and up by Aug. 1, 2015).
Nicholas East ASA Girls Softball
Teams announces signup meeting
The Nicholas East ASA girls softball team will be having a meeting for anyone that is interested in signing up for their teams on Thursday, July 9, at the Craigsville Bowling Alley at 7 p.m. All girls must have a parent or legal guardian present.
Visit their Facebook page @ https://www.facebook.com/pages/Nicholas-East-ASA-Girls-Softball/1645328199045520?ref=hl or search for Nicholas East ASA girls softball.