Grizzly girls win scrimmage; open season Tuesday
The Nicholas County High School Lady Grizzly basketball team played the second of two pre-season games last week in preparation for the upcoming 2013-14 season.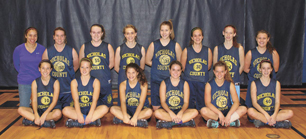 The Nicholas County High School Lady Grizzly basketball team, front, from left, Alyssa Chapman, Sophie Kiser, Mykenzie Martin, Kaylee Hughes, Jordan Slevin and Zoe Spencer. Back, from left, Alexis Brown (injured), Cortney Taylor, Whitney Robinson, Carrie Huffman, Amanda King, Kaley Deal, Makayla Willis and Brooklynn Loss. Not pictured, Autumn Cox who is sidelined with an injury.
NCHS traveled to Dunmore on Tuesday afternoon, Nov. 26, to scrimmage the Pocahontas County Lady Warriors. NCHS won two quarters, lost one and tied one in the varsity portion of the scrimmage.
The NCHS junior varsity won one quarter and lost two against the Pocahontas County jayvees.
No individual statistics were kept for the scrimmage game.
"The effort was good and I like their chemistry," said NCHS head girls basketball coach Tom McGirl.
Nicholas County will open the season on Tuesday, Dec. 10, at Robert C. Byrd at 7 p.m. A previously scheduled season opener at home against the Richwood Ladyjacks was rescheduled for Feb. 19.
The first home game for NCHS will be on Tuesday, Dec. 17, at 7 p.m. against Bluefield at the Grizzly Den.
In addition to hosting a holiday tournament at the Summersville Armory and Convention Center Arena on Dec. 27 and 28, two games with Princeton and a game with Poca have been added to the 2013-14 schedule.
Lumberjacks counting on experience as season nears
By Pat Hanna
The Nicholas Chronicle
The Richwood Lumberjacks return five of their top seven players from a year ago as they prepare for arguably their toughest season opener in years.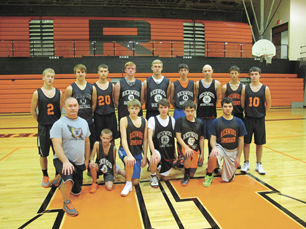 The 2013-14 Richwood High School boys basketball team. Kneeling (from left) are coach J.B. Miller, manager Aiden Miller, Justin Ritchie, Kyle Perry, Hunter Peyatt and Lane Blankenship. Standing (from left) are Levi Mowery, John Bard, Braden Johnson, Ben Beaver, Ben Weber, Dean Travis, Shawn Griffith, Nathan Bayless and Josh Kidwell. Not pictured are Griffin Snyder, Shane Lipps and Bryar Spencer.
Coach J.B. Miller's team will open the 2013-14 campaign at home on Dec. 13 against Tug Valley, which won the state Class AA championship in 2012 and then captured the Class A title last season after moving down in classification.
The Panthers lost first team all-state selections Mikey Newsom and Austin Brewer and another senior, Aaron Muncy, from last season's team which defeated Richwood 89-37 at Naugatuck. This season's roster shows only two seniors, including returning starter Thomas Baisden.
"Even though they lost a lot to graduation, we know they're going to be tough," Miller said. "They had a couple of freshmen who hurt us last year, and their JV team was tough.
"And then after we play them, we go to Meadow Bridge. That's who we lost to in the sectionals last year."
The Lumberjacks will not be short on experience as they enter the season and try to improve on last year's 9-14 record.
Center Ben Weber, a 6-5 senior and an all-state honorable mention selection last year, begins his third season as a starter, and he's joined by 6-0 junior guard John Bard, who led the team in scoring last season despite missing six games with a broken wrist, 5-9 junior guard Levi Mowery, 6-2 junior wing Braden Johnson and 5-11 junior guard Josh Kidwell.
Richwood is also expected to call on 6-0 sophomore Griffin Snyder, 6-3 junior Ben Beaver and 6-2 senior Dean Travis, who is putting on a Lumberjack uniform for the first time.
"He played during the summer and did really well," Miller said of Travis. "Since he hasn't played in so long, he only does what he can do. He stays really grounded."
Miller is hoping for a big season from Weber, who saw some varsity action as a freshman.
"I have said all along that the ball is going to have to go in there to him for us to be successful," Miller said. "We'd like for everything to go through Ben. Then if they (opposing defenses) collapse on him, he can kick it out to the perimeter. We have to establish something before we go to something else."
NCHS boys to scrimmage Thursday;
open season Tuesday
Following the second of two preseason scrimmage games against Webster County on Thursday, Dec. 5, at 6 p.m. at home, the Nicholas County High School Grizzly boys basketball team opens the season on the road on Tuesday, Dec. 10, at 7 p.m. against the Herbert Hoover Huskies at Falling Rock.
The first home game for NCHS will be against Midland Trail on Friday, Dec. 20, at 7 p.m. at the Grizzly Den.
NCHS will be led by three returning starters from last season including 5-10 senior guard Jared Tharp, 6-2 senior forward Eric Peyatt and 6-4 senior forward/center Cody McClung.
Tharp and Peyatt were both Class AA Honorable Mention All-State selections last season. Tharp averaged 18.7 points per game and Peyatt scored at an 11.1 points per game clip last year. Tharp has scored over 700 points in his three seasons as a varsity player.
McClung averaged nearly a double-double last year scoring over 10 points per game and pulling down nearly 10 rebounds per contest.
The Grizzlies lost several backups from last season due to graduation who provided the team with depth and good minutes off the bench. "The underclassmen are going to have to step up and give us depth off the bench," said third-year NCHS head basketball coach Brian Phipps who is being assisted this season by Allen Stump.
Grizzly wrestlers start season Saturday
The Nicholas County High School Grizzly wrestling team begins the 2013-14 season this week when they compete in the Bill Hutchinson Duals Tournament at Richwood High School on Saturday. Dec. 7, at 9:30 a.m.
NCHS will host a tri-match against Independence and Bridgeport on Wednesday, Dec. 11, at 4 p.m. at the NCHS gymnasium.
The Grizzlies are being coached this season by new head coach Matt Morriston who is also the head wrestling coach at Summersville Middle School. Rick Leggett returns as assistant coach.
On days when both the high school and middle teams have matches, Coach Morriston will be with the high school team and SMS assistant coach Danny Crislip will be with the middle school wrestlers.
The Grizzlies return three wrestlers who qualified for the State High School Wrestling Tournament last season. Senior Jacob Tyler was Class AA/A state runner-up in the 170-pound class and finished with a record of 39-6. Tyler will wrestle in the 182-pound class this season.
Senior Drew Hicks advanced to the state tournament last season in the 182-pound class.
Hicks, who was 28-8 last year, will wrestle in the 195-pound class this season.
The other state tournament qualifier returning is sophomore Matt Moore who was 14-22 last year in the 138-pound class. He will wrestle in the 152-pound class.
Another returning senior is Wade Leggett in the 170-pound class.
Returning juniors are Trey Malcolm in the 138-pound class, Christian Frame in the 145-pound class and Denver Prather in the 195-pound class. Another junior is Wil Mayes in the 182-pound class.
Other sophomores are returnee Thornton Hall in the heavyweight class and Jason Lay in the 113-pound class.
Freshmen on the team are Jimmy Pritt in the 120-pound class, Eric Castle in the 132-pound class, Dalton Willis in the 138-pound class and Logan Cole in the 145-pound class.
RHS wrestlers open season at home Saturday
By Pat Hanna
The Nicholas Chronicle
The Richwood High School wrestling team will open its season on Saturday, Dec. 7, when it hosts the annual Bill Hutchinson Classic.
Weigh-ins will start at 8 a.m. with wrestling to begin at 10 a.m.
In addition to the host Lumberjacks, Nicholas County, Webster County, Fayetteville and Braxton County will compete in the tournament. There will also be a middle school division of Richwood, Fayetteville, Braxton County, Midland Trail and a team of extras.
Richwood returns two wrestlers who qualified for the state tournament last season. Junior Logan Brown will wrestle at 160 or 171 pounds, while Kenneth Metheney, also a junior, will wrestle at 138.
Dennis Cutlip, at 152, is one of two seniors on the team. The other is Caleb Louden, who has wrestled for parts of four years. He will wrestle at 126 or 120 pounds.
Junior Andy Stasny, at 132, is a four-year wrestler, and another returner is 152-pound sophomore Cody Starcher.
Freshman Antonio Strino, at 145, has four years' experience on the mat.
Newcomers include freshman Jacob McKinney (132), freshman Dylan Boone (145), freshman Amanda Starcher (126), junior Mark Boone (138), junior Sam Whitlock (220), junior Derek Silman (285) and junior Anthony Dodrill (195).
"We're young," RHS coach Lee Parlier said. "But our numbers are up. We ended up with seven or eight wrestlers last year."