NCHS downs Lady Jacks; Richwood's
Lawrence reaches 1,000-point mark
By Pat Hanna
The Nicholas Chronicle
Storylines were aplenty when rivals Nicholas County and Richwood met in girls' basketball for the only time this season.
It ended with visiting Nicholas County winning 64-39 last Wednesday night, Feb. 1, to raise its record to 12-4. Richwood fell to 4-11.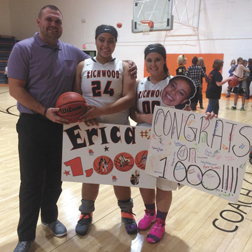 Richwood senior Erica Lawrence (center) and RHS coach Codey Horton (left) hold the game ball Lawrence used to score her 1,000th career point. The milestone came during Richwood's game against Nicholas County last Wednesday night, Feb. 1, at the Red Gym. Richwood's Emily McPherson (right) holds a congratulatory poster signed by teammates and fellow students.
Along the way: Richwood senior Erica Lawrence hit a free throw with 7:25 left in the contest to reach the 1,000-point mark for her career.
Nicholas County starter Olivia Carpenter suffered a knee injury in the first quarter and was expected to miss at least two games.
And along with blue and gold, and orange and black, there was a lot of purple inside the Red Gym -- purple wristbands, purple socks, a purple tie worn by NCHS coach Tom McGirl and a purple shirt worn by RHS coach Codey Horton -- as a tribute to Kelli Dempsey, a Summersville Middle School secretary who died a year ago, on Jan. 29, 2016.
"Purple was her favorite color," McGirl said. "It was nice that both teams honored her memory."
Lawrence entered the game needing 14 points to reach 1,000 for her career.
She scored 8 in the first half and added 5 in the third quarter, leaving her a single point short.
She stepped to the foul line 35 seconds into the fourth quarter and made the second of two free throws to reach the milestone.
"That's an awesome experience," Horton said. "It's something that a lot of people never go through. I played here and was not close. She's worked hard for it."
"I'm happy for Erica," McGirl said. "That's quite an accomplishment."
In a game that was originally scheduled for Jan. 30 but postponed because of snow, Nicholas County jumped out to a quick 8-1 lead on the strength of three-point goals by Emily Parker and Zoe Spencer.
The NCHS advantage was 12 points, 15-3, when Carpenter went down under her own basket with 4:12 left in the opening quarter.
She was helped to the bench where ice was applied to her knee. She briefly re-entered the game before leaving the floor again. She left the gym at halftime and was driven to Summersville Regional Medical Center to have the knee examined.
According to a family Facebook post, the injury was diagnosed as a sprain. She was expected to miss games against Herbert Hoover and Westside before having the knee re-evaluated on Monday, Feb. 6.
McGirl expressed concern for the sophomore guard/forward and added, "We're definitely a different basketball team with her not on the court."
Lumberjacks ride 20-0 run to one
of two victories on week
By Pat Hanna
The Nicholas Chronicle
Richwood and Meadow Bridge were locked in a tight game.
The Lumberjacks led most of the first 20 minutes of the contest, but they were unable to put much distance between themselves and the Wildcats.
In what seemed like a blink of the eye, they finally did.
Richwood's Justin Ritchie goes up for a shot against the Meadow Bridge Wildcats.
The Jacks outscored Meadow Bridge 20-0 over the final 3:40 of the third quarter, turning a 40-35 lead into a commanding 60-35 advantage.
They went on to post a 71-43 victory on Tuesday night, Jan. 31, at the Red Gym for their fifth straight win.
The following night, the winning streak came to an end with a 60-38 loss at Class A No. 3 Fayetteville.
But Richwood got back in the win column on Friday night, Feb. 3, with an 80-55 victory at Montcalm to improve to 8-7 on the season.
The Lumberjacks were scheduled to host South Harrison on Wednesday night, Feb. 8. Next week, they will travel to Summers County on Feb. 14, host Valley Fayette on Feb. 15 and visit Midland Trail on Feb. 17.
After an even first quarter against Meadow Bridge, Richwood gained the upper hand in the second quarter and led by as many as seven points before the Wildcats' Kobe Rozell, fouled on a three-point shot with one second left in the period, hit two of three free throws to cut the RHS lead to 33-29 at halftime.
The Jacks then built a 40-31 lead before back-to-back baskets by Will Woods and Lukas Stephens made it 40-35 with 4:00 showing in the third quarter.
Then it happened.
Caleb Clendenin connected on a three-pointer at the 3:40 mark and Luca Gerke followed by a steal and layup to give the Jacks a 45-35 lead.
A goal by Brandon Amick, another steal and layup by Gerke and a three-pointer by Amick made it 52-35 with 2:08 to go in the quarter.
Julian Carmona then scored four straight points, Shane Lipps hit two free throws and Carmona tipped in a missed shot to cap the run and make it 60-35.
Jared Gladwell finally stopped the bleeding for Meadow Bridge with a basket at the 6:12 mark of the fourth quarter, but the Jacks used a 10-4 run, capped by a Gerke three-pointer, for their biggest lead of the game, 70-41, with only 1:59 showing.
"We played better tonight," RHS coach J.B. Miller said. "We moved the ball well and flattened their zone (defense) out.
"We'll take whatever we can get," he added. "When we played them over there, we were up by 17 and had to hold on to win (54-52)."
NCHS girls defeat Herbert Hoover and Westside
The Nicholas County High School Lady Grizzly basketball team improved to 15-4 last week with wins over Herbert Hoover and Westside.
NCHS won 58-37 over Herbert Hoover at Elkview Middle School on Thursday evening, Feb. 2, and edged Westside 48-45 at the Grizzly Den on Saturday afternoon, Feb. 4.
Nicholas County will host Shady Spring on Wednesday, Feb. 8, at 6 p.m.; and host Braxton County on Monday, Feb. 13, at 6 p.m.
Nicholas County 58
Herbert Hoover 37
Dominating play in the middle quarters lifted the Lady Grizzlies to the victory over the 2-16 Lady Huskies.
Both teams reached double figures in the first quarter but the Lady Grizzlies took a 14-10 lead that they would never surrender.
NCHS put it all together in the second quarter when they dominated both ends of the floor with an 18-5 run to go ahead 32-15 at halftime.
The two teams had their best offensive output in the third quarter but the Lady Grizzlies held the upper hand 20-13 to extend the lead to 52-28.
The fourth quarter was nearly even but a slim 9-6 edge by the home team made the final difference 21 points.
NCHS had two players in double figures including Emily Parker with 17 points and Anna Hamilton 16.
Zoe Spencer chipped in 9 points, Kristen Woods 7, Alexis Nicholas 4, Josie Chapman 3 and Alexis Montgomery 2.
Parker had 5 three-pointers, Spencer 2 treys and Chapman 1.
Hamilton had 18 rebounds. Montgomery had 7 assists and Spencer and Parker each had 3 steals.
NCHS was 12 of 20 from the free throw line.
NCHS boys take 2 of 3 contests
The Nicholas County High School Grizzly basketball team won two of three games last week to put their record at 8-11.
After losing 72-64 to one-win Clay County on Tuesday evening, Jan. 31, the Grizzlies came back to defeat Herbert Hoover 62-52 at home on Thursday evening, Feb. 2; and Lewis County 84-78 at home on Saturday afternoon, Feb. 4.
NCHS will play at Midland Trail on Wednesday,  Feb. 8, at 7 p.m.; and play at Herbert Hoover on Tuesday, Feb. 14, at 7 p.m. at Elkview Middle School.
Clay County 72
Nicholas County 64
A poor third quarter proved to be the downfall for the Grizzlies in the loss to the 2-12 Panthers.
The first half was nearly even including the first quarter, which ended with the Grizzlies up 14-13.
The scoring pace picked up slightly in the second quarter, but a slim 17-16 edge made it 31-29 Grizzlies at halftime.
The Grizzlies went cold in their shooting in the third quarter scoring just 8 points while the Panthers had their second straight 16-point quarter to take a 45-39 lead.
Both teams got hot in the fourth quarter, but the home team had a narrow 27-25 advantage to secure the eight-point victory.
Luke LeRose of the Grizzlies led all scorers with 30 points. Jacob Grose was also in double figures with 13 points.
Tanner Huffman chipped in 9 points, Nick Nutter 6, Jerry Fleshmna 4 and Dom LeRose 2.
Luke LeRose, Nutter and Huffman each had a three-pointer.
Huffman had 5 rebounds, and Nutter had 4 assists.
NCHS was 9 of 15 from the free throw line.