NCHS boys go 2-1 during week
The up and and down season of the Nicholas County High School Grizzly basketball team continued last week when they won two of three contests to put their record at 5-7 on the season.
NCHS crossed the century mark on Monday evening, Jan. 11, with a 101-63 win over Greenbrier West at Charmco; handily defeated Richwood 75-44 at home on Thursday evening, Jan. 14; and then lost 81-68 to Liberty Raleigh on the road on Friday evening, Jan. 15.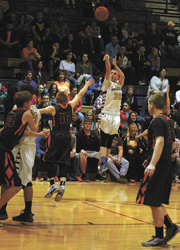 Nicholas County's Tanner Huffman puts up a 3-point shot during the Grizzlies' win over the Richwood Lumberjacks.
The Grizzlies will play at Richwood on Wednesday, Jan. 20, at 7:30 p.m.; play at Greenbrier East on Friday, Jan. 22, at 7:30 p.m.; and host Sissonville on Tuesday, Jan. 26, at 7:30 p.m.
Greenbrier East is led by 6-9 Karim Ezzidine who is originally from France. He has been getting looks from several Division I schools, including Indiana, Virginia Tech and Marshall.
Nicholas County 101
Greenbrier West 63
Hot shooting by the Grizzlies from start to finish carried them to the 38-point win over the Cavaliers.
The two teams played nearly evenly in the first quarter which ended with NCHS up 18-16.
NCHS warmed up on their shooting in the second quarter and owned a double digit advantage of 24-14 to take a commanding 42-30 halftime lead.
The Grizzlies stayed hot in the third quarter and burned the nets for 29 points while the home team also had their highest scoring output of the contest with 18 points to make it 71-48 heading into the fourth quarter.
NCHS continued its torrid shooting in the fourth quarter and doubled up on the Cavaliers 30-15 to make the final count 101-63.
The Grizzlies shot 60 percent from the floor and had 14 3-point baskets.
Nicholas County placed four players in double figures led by Jacob Grose and Ryan Parker with 19 points each. Tanner Huffman scored 14 points and Jacob Holliday 12.
Dominick LeRose and Nick Nutter each chipped in 9 points, Tanner Williams and Marshall Newlon 6 apiece, Josh Campbell 4 and Michael Whitlock 3.
Huffman had four 3-pointers, Nutter 3, Grose, Newlon and Parker 2 each and Holliday 1.
Williams had 8 rebounds and Parker 7.
NCHJS was 17 of 30 from the foul line.
Adam Johnson took scoring honors for Greenbrier West with 21 points. Hunter Bevins was close behind with 19 points and D.J. Oxendine had 11. Brandon Laxton scored 4 points, Justin Estep 3, Noah Midfiff and Riley O'Dell 2 each and Colin O'Dell 1.
Richwood girls win two of four games
By Pat Hanna
The Nicholas Chronicle
Two nights after dropping a close decision to Class A sixth-ranked Fayetteville, the Richwood Lady Jacks got back on the winning track at home against Webster County.
Richwood outscored Webster County 35-15 in the second half for a 56-37 victory on Wednesday night, Jan. 13.
Richwood's Emily McPherson looks for an open teammate during the Lady Jacks' victory over Tug Valley.
"We played a real intense game against Fayetteville, then we didn't get to practice the next day," RHS coach Jeff Chambers said. "So I expected a letdown.
"But I thought we stepped up in the second half. The second half was a confidence builder. I think the Fayetteville game was a confidence builder, too, even though we lost. Fayetteville's the No. 6 team in the state, and we were two players down."
The Lady Jacks lost senior Megan Chambers for the season with a knee injury in December. Sophomore Emily McPherson sat out the Fayetteville game after suffering a concussion and broken nose at Meadow Bridge on Jan. 7, but she returned for the Webster County game.
Richwood trailed Webster County 22-21 at halftime. But the Lady Jacks took control in the third quarter, outscoring the Lady Highlanders 15-4 in the final 5:48 of the period for a 40-28 lead heading into the fourth quarter.
Webster County got no closer than 9 points the rest of the way.
Erica Lawrence led the Lady Jacks with 19 points. Kora Younts added 16 points. Katie Mullens had two three-point goals and finished with 14 points.
Richwood also got 5 points from Amelia Bard and 2 from Hannah Green.
The Lady Jacks had 23 goals, including the two three-pointers from Mullens, and were 8 of 14 from the free throw line.
Webster County, losing for the 10th time in 11 starts, got 15 points from Nikki Williams, 12 from Kendal Riffle, 7 from Megan Hamrick and 3 from Regan Cochran. Williams had two three-pointers, while Riffle and Hamrick had one each.
The Lady Highlanders had 15 goals and were 3 of 6 from the line.
Richwood defeated Tug Valley 57-40 on Friday night, Jan. 15, at the Woodshed before dropping a 52-46 overtime decision at Cameron on Saturday night, Jan. 16, in the opening round of the West Virginia Hometown Invitational Tournament.
NCHS girls edge Poca for ninth win
The Nicholas County High School Lady Grizzly basketball team chalked up its ninth win of the season last week in 12 starts when they edged Poca 42-41 at the Grizzly Den on Friday evening, Jan. 15 in a game with a somewhat controversial ending.
The contest was tight the entire game and featured several lead changes with neither team ever having a separation of more than six points.
NCHS played fairly well the first quarter which ended with the home team up 11-8.
Both teams reached double figures in the second quarter with each adding 10 points to their total to make it 21-18 Nicholas County at halftime.
The third quarter was a replay of the first quarter with the Lady Grizzlies having an 11-8 advantage to take their largest lead of the contest, 32-26, heading into the fourth period.
The visitors gradually sliced into the NCHS lead in the fourth quarter and pulled to within 38-37 with 2:57 remaining.
After a Poca basket put the visitors ahead 39-38 with 2:27 to go, a Lady Grizzly basket with 2:02 to go put NCHS up 40-39.
Two free throws by Poca put them ahead 41-40 with 1:05 remaining.
NCHS knotted the score 41-41 on a free throw by Amanda King with 12.6 seconds remaining.
Poca missed the front end of a one-on-one free throw shooting opportunity with 8.4 seconds remaining.
King was fouled in the act of shooting and made 1 of 2 free throws to give NCHS a 42-41 lead with 5.7 seconds remaining.
On Poca's final possession, they got a shot off at the buzzer from just beyond the foul line that was no good with two Lady Grizzly players defending.