Scenic Mountain Triathlon award winners
A man who has captured the Scenic Mountain Triathlon top spot previously was again the contestant to break the finish line tape first this year. Tom Wood, 31, of Tennerton, W.Va., again took home the first-place trophy, his time for the 30th annual running of this event, 1:34, three minutes ahead of his nearest opponent.
Finishing in the second-place spot was 22-year-old Adam Brumley of Buckhannon, with a time of 1:37.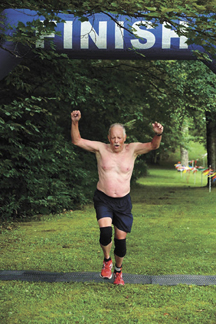 Fenwick's Roy Moose, 70, gets the job done — crossing the finish line in 3:16:39.
David Williams, a past "tri" champion, placed third with a time of 1:39. Williams, 39, resides in Durham, N.C.
The next closest male contestant was Andrew Cochran, 31, of Lewisburg, who missed the top three overall finisher's bracket by six minutes with a time of 1:45.
A local racer who finished in the top ten was 35-year-old J.R. Spencer of Fenwick, claiming ninth place by clocking-in with a time of 1:57.
The top female finisher was Sarah Crandall Fletcher, her time 2:04. Sarah, 43, finished 16th overall in this field of 64 male and female triathletes who competed in the individual bracket.
Finishing four minutes off the pace, taking second place in the female bracket with a time of 2:08 was Krista Dunton, 48, of Hilton Head, S.C. Lauren Allen, 24, of New Vienna, Ohio, placed third with a time of 2:12.
Finishing out of this top three was a racer whose name is familiar to Scenic Mountain fans. Amy Robbins has, in the past finished in that elite circle. This time around, with a fourth place finish, her time was 2:15.
The additional triathletes who entered from the local area included Dustin Wood, 25, of Craigsville. Dustin was a cross county speedster for RHS and Glenville State whose goal was to finish this triathlon course in less than two hours. He almost made it. Dustin's time was 2:08, good for a 21st overall finish and a second-place ribbon in his age division.
Another local athlete, Mark Spencer, 42, of Fenwick, finished 38th overall, with a time of 2:27.
Also from Fenwick was Becky Spencer with a time of 3:10, and Breanna Mazzella, her time 2:46, both finishing first in their age brackets.
The elder statesman of the teaching world and nature in general, and especially the realm of all snakes, and certainly of this race was Fenwick's Roy Moose, number one in his age category with a time of 3:16. Roy had the distinction of being the eldest competitor in this year's race.
A very special contestant on the 30th running of the Scenic Mountain course was Diana Morris of Charleston. Diana was among the first supporters of this event, entering time and time again. Over these three decades, Diana missed this race only once or twice "due to illness." Her time this year, at age 65, was two hours and 40 minutes.
In all, six teams entered, one in the male category, five in the co-ed class. The all-male team, "Dynamic Duo" finished in a time of 1:41. "The Adkins Family" team, first in co-ed, finished with a time of 2:24. Their nearest competitors, "Guess Which One Is The Runner," took home second best in a time of 2:30. Team "Two Swimmers, a Biker, and a Runner" clocked in at 2:33.
5K Run/Walk raises over $8,000 locally for Make-A-Wish
The "I Run To Make Wishes Come True" race on Saturday morning, June 27, in Summersville was a huge success!
A total of 98 runners and 48 walkers competed in the 5K, and 18 children ran in the 1K race in between morning thunderstorms. Race organizer Cami Dorsey said a total of $8,299.31 was raised for local Make-A-Wish Foundation efforts. With one wish costing approximately $3,900, the money is going to be staying in Nicholas County so someone here can make a wish.
This race is in memory of the late Julia Dorsey, sister of Cami Dorsey, who had trisomy 18 and went on her Make-A-Wish trip to Disney World with her family when she was 8.
The race started in front of Summersville Baptist Church and continued downtown before turning onto Water Street, Alderson Ave. and then to Summersville Elementary School.
After going up and back McKee's Creek and onto several side streets, the race ended at the church.
Organizers expressed appreciation to gold level sponsors of $500 or more including Northside Automotive and Harley E. Stollings Attorney At Law.
Silver level sponsors of $250 or more were Adkins and Young PLLC, Callaghan and Callaghan PLLC, Bischoff Law Firm PLLC, Bright Enterprises, Mountain Lake Pharmacy, Seneca Health Services, Summersville Regional Medical Center and TSS Photography.
The bronze sponsors, $100 and under, were Long Point Grille and Bar, Nicholas Pharmacy, Summersville Arena and Conference Center, Gregory W. Sproles Attorney at Law PLLC, Anderson Accounting, Summersville Pedicatrics Inc., Marsh Hearing LLC, Dr. Kate Fletcher DDS, Hair Divas, C. Adam Toney, Davis and Chapman PLLC, Columbia Forest Products, and Mountaineer Physical Therapy.
"We couldn't have pulled this off without all of the volunteers and other behind the scenes people," said Cami Dorsey. "Thanks to all for helping me fulfill a dream in honor of my sweet sister, Julia Dorsey."
Medals were awarded to the top three finishers in each male and female age group in the 5K run and the top five overall male and female walkers.
Overall in the 5K run, Jackson Reed had the fastest time of 15 minutes, 34 seconds. The fastest female time was Briana Friend at 19:29.
Kaci Blake finished first in 5K walk among females at 33 minutes, 32 seconds. Kevin Hess was the first-place male with a time of 36:28.
Waters finishes third in BNI Memorial Tournament
By Pat Hanna
The Nicholas Chronicle
Brandon Waters of Summersville finished third in the 35th annual Beckley Newspapers Inc. Memorial Tournament, played July 11-13 in Beckley.
Waters completed the 54-hole tournament with a score of even-par 216, three shots behind winner Will Evans of Charleston. Tyler Koch, a top junior golfer from Maryland, came in second at 214, while defending champion Davey Jude, like Evans a member of the Marshall University golf team, was fourth.
Golfers in the Championship Division played from the blue tees all three days. Waters opened with a 71 at Brier Patch Golf Links before shooting a 73 at Grandview Country Club. He then shot a final-round 72 on the Cobb Course at Glade Springs.
Former Summersville resident Alan Wharton, the 2008 BNI champion, finished ninth with a score of 229.
This year's tournament was dedicated to the late Barbara Wharton of Summersville, a longtime supporter of golf in the area and a fixture at the BNI where she developed many lifelong friendships and tirelessly followed sons Alan, Robert and Gary around the various courses.
Three other golfers with Nicholas County connections competed in the Championship Division.
Tony Giles of Craigsville finished with a score of 231. Tim Fitzwater of Summersville and former Richwood resident Brandon Tinney of Putnam County each shot a 239.
Rock Moyer placed sixth in the Seniors-Plus Division (ages 65 and older) with a score of 259.
NCHS Football Organizational Meeting July 30
An organizational meeting for all students interested in playing football for Nicholas County High School this season will be held on Thursday, July 30, at 6 p.m. in the NCHS auditorium.
Players should bring a completed physical examination form and a copy of proof of insurance.
NCHS Cheerleader meeting and tryout dates announced
There will be a meeting on Monday, July 27, at 6 p.m. in the Nicholas County High School cafeteria for anyone wanting to try out for NCHS cheerleader.
Tryouts will start on Monday, Aug. 3, from 9 a.m. to 3 p.m.
Those interested in trying out must be attending NCHS in the fall of 2015, have a physical examination dated after June 1, a copy of her insurance card and a minimum grade point average of 2.0.
For further information, call Wendy at 304-619-5411 or Connie 304-619-6479.