RHS to host Webster in annual Wagon Wheel battle
By Pat Hanna
The Nicholas Chronicle
The latest chapter in the Battle for the Wagon Wheel will unfold Friday night, Aug. 29, when Richwood entertains Webster County in the 2014 season opener at Dean Memorial Field.
Kickoff is set for 7:30 p.m.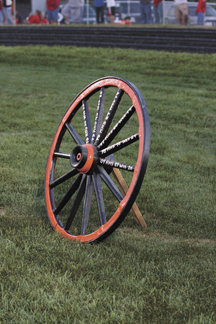 The Wagon Wheel
Richwood has won four of the last five games in the rivalry, including a 32-28 victory at Webster County last season. In 2012, the home-standing Lumberjacks scored a touchdown in the final minute for a 30-26 win.
"It's always a tough game, always a rivalry game," RHS coach Jason Rogers said.
"Both teams will be jacked up, ready to go. The kids know each other. They hate losing to us, and we hate losing to them. So it's going to be a battle."
Prior to last Friday's scrimmage at James Monroe, where the Lumberjacks were outscored by the Class AA Mavericks, Rogers said his team had avoided major injury problems in preseason practice and was eager to start the season.
"I think the kids are ready to get to a game and start playing," he said.
The eighth-year coach expects a large crowd for the game.
"It's always a big crowd," he said. "Not only do the players know each other, the fans know each other, too.
"It's one of those respectful rivalries. At the end of the day, we're all good friends with each other."
Grizzlies win second scrimmage; open at West Friday
The Nicholas County High School Grizzly football team played the second of two pre-season scrimmage games last Wednesday evening, Aug. 20, when the Lewis County Minutemen came to Nicholas County Memorial Stadium.
The Grizzlies will open the season on Friday, Aug. 29, at 7:30 p.m. when they play Greenbrier West at Charmco. The Cavaliers were the Class A state runner-up last season.
In the scrimmage against Lewis County, the Grizzlies outscored the visitors two touchdowns to one. In the first part of the scrimmage when the two teams were alternating running 10 plays of offense and 10 plays of defense, NCHS scored on a touchdown run of three yards by Wil Mayes.
In the latter portion of the scrimmage, the teams played down and distance as in an actual game and each team crossed the end zone one time. The Grizzlies scored on a five-yard run by quarterback Jacob Hopkins.
Lewis County's touchdown came on a short run.
Neither junior varsity teams were able to score in either the 10 and 10 situation or the down and distance.
No statistics were kept for the Grizzlies but wide receivers Carter Sweeney and Jacob Grose each had two or three catches in the scrimmage.
"We played much better than we did in our first scrimmage," said NCHS Head Football coach Gene Morris. "We got off the the ball better, went to the ball better and did the things we're supposed to do."
After the two scrimmages, Coach Gene Morris also had a more definite idea about his starting lineup. Coach Morris said senior Jacob Hopkins will start at quarterback but sophomore Tate Mayes will also see action behind center. Wil Mayes is the tailback and Josh Jarvis the fullback and Austin Riffle the backup. Matt Moore will alas see action in the backfield.
Cord Hayhurst will be the center with Drew Amick and Brandon Jones on the right side and Luke Harris and J.B. Keene on the left side. Also in the mix on the line is Thomas Fillinger.
The tight ends are Caleb Simms and Troy Jackson with Carter Sweeney, Jimmy Pritt and Jacob Grose the wide receivers.
Five to be inducted into RHS Hall of Fame
By Pat Hanna
The Nicholas Chronicle
The Richwood High School careers of Ken Hunt and Mike Dean were intertwined.
Hunt coached the Lumberjacks from 1946 to 1958.
In 1950, in what was considered the "golden year" of RHS basketball, Dean joined fellow sophomore Tuck Wilt, older brother Warren Dean, Dick Nicholson, Heber Dorsey, Hip Bailes and others in leading the Hunt-coached Lumberjacks to the Class AAA semifinals of the state tournament, where they dropped a 77-74 overtime decision to eventual champion Wheeling in a game that sports writers described as one of the best in state tournament history up to that time.
Now, more than a half-century later, their careers are being remembered one more time.
They and three others will be inducted into the RHS Athletic Hall of Fame during pre-game festivities on Friday night, Aug. 29, when the Lumberjack football team kicks off the 2014 season against Webster County at Dean Memorial Field.
The inductees will be introduced at 7:15 p.m. Hunt is being inducted posthumously. He is expected to be represented by immediate family members at the introduction.
Game time is set for 7:30 p.m.
This year's Hall of Fame class also includes state champion wrestler Larry Alderman, basketball star Matt Donahue and Lutrisha Little, who in 2005 led Richwood to the state Class A softball championship.
Hunt came to RHS from Beckley in 1946 to coach football, basketball and baseball, and established himself as one of the top coaches in the state.
His football teams compiled a record of 72-38-6, including a perfect 10-0 mark in 1953 when the Lumberjacks recorded eight shutouts and allowed only 12 points in 10 games.
His record in basketball was 173-95.
The 1950 team finished with a 22-3 record, the three losses coming by a total of seven points.
That season, the Lumberjacks ran off 16 straight victories and earned a berth in the state tournament at Morgantown by beating Beckley in the regional final.
Richwood defeated Shinnston in the first round of the state tournament before losing the epic battle to Wheeling.
Hunt left Richwood in 1958 to take the head coaching job at Bluefield. On Dec. 6, 1958, he died at the age of 53.
RHS golfers go 3-2 in pair of matches
By Pat Hanna
The Nicholas Chronicle
The Richwood High School golf team placed second in a pair of nine-hole multi-team matches last week.
The Lumberjacks hosted Webster County and Liberty Raleigh on Aug. 19 at Cherry Hill Country Club.
Webster County won the match with a score of 168. Richwood was second with a 183 and Liberty was third with a 190.
Tony Mazzella III and Mark Bane of Webster County tied for medalist honors with scores of 39. Gavin Surbaugh and Hayden Williams each finished with a 45.
Mason Mullens and Charles Baughman each shot a 42 for Richwood. Tyler Davis had a 49 and Sheldon Baughman a 50. Lumberjack senior Braden Johnson didn't play because of another commitment.
The Lumberjacks traveled to Summersville on Aug. 21 for a four-team match at Nicholas Memorial Golf Club.
Greenbrier West edged Richwood by one stroke, finishing with a 175 to the Lumberjacks' 176. Webster County was third with a 180 and Nicholas County fourth with a 195.
Richwood's Mullens was the medalist with a 36. Charles Baughman had a 44, Davis a 45 and Nathan Bayless a 51.
Justin Estep shot a 38 for Greenbrier West, followed by Thomas Vestal (41), Chandler Fitzwater (42) and Colby Brown (54).
For Webster County, Bane had a 40, Surbaugh a 45, Mazzella a 47 and Williams a 48.
Sherwin Miller and Travis Miller each shot a 42 for Nicholas County. Kobey Alderman had a 54 and Jacob Foreman a 57.
Richwood was scheduled to oppose Man and Independence on Aug. 25 at Lewisburg Elks Country Club before hosting Webster County on Aug. 28 at Cherry Hill for rights to the Golf Cart Wheel.
The Lumberjacks will go against Oak Hill on Sept. 4 at White Oak Country Club.
Grizzly boys soccer starts season with win
The Nicholas County High School Grizzly boys soccer team opened the season with a 6-3 victory over the Independence Patriots on Saturday morning, Aug. 23, at Nicholas County Memorial Stadium.
The Grizzlies previously scheduled opening match at Pikeview on Friday evening, Aug. 22, was postponed because of heavy rains that left the field underwater at Gardner in Mercer County. The match will be rescheduled later in the season.
NCHS scored two quick early goals in the match against the Patriots. The first came from junior forward Matt Bennett off an assist on the right wing from Ethan Miller.
Three minutes later, Lucas Facemire kicked in a goal from the top of the box off an assist from Miller. The ball deflected off the Independence goalkeeper and into the net.
Later in the first half, Ryan Borrell scored an unassisted goal from 15 yards out.
The fourth Grizzly goal of the first half was from Logan Dancy off an assist from Miller.
The visitors had two first half goals to make it 4-2 at halftime.
Nicholas County added two goals in the second half. The first came on a header by Miller on a corner kick by Borrell.
Following a goal by the Patriots to make it 5-3, NCHS completed the scoring when Bennett kicked one in unassisted for his second goal of the contest.
NCHS will play Lincoln at Shinnston on Thursday, Aug. 28, at 7:30 p.m.; host Greater Beckley Christian on Tuesday, Sept. 2, at 5 p.m. at Nicholas County Memorial Stadium and play at Independence on Thursday, Sept. 4, at 6 p.m.