NCHS competitive in first
scrimmage; host Lewis tonight
The Nicholas County High School Grizzly football team played a strong Princeton Tiger football team on pretty even terms in a scrimmage game Saturday morning, Aug. 16, in Princeton.
It was the first of two preseason scrimmage games for NCHS with the other being at home on Wednesday, Aug. 20, at 6 p.m. when the Lewis County Minutemen, a Class AAA playoff team last season, comes to Nicholas County Memorial Stadium. It will be the Grizzlies final tuneup before the 2014 season opener against last year's Class A state runner-up Greenbrier West at Charmco on Friday, Aug. 29, at 7:30 p.m.
The Grizzlies first home game will be on Friday, Sept. 5, at 7:30 p.m. against the Poca Dots at Nicholas County Memorial Stadium.
In the first part of the scrimmage at Princeton, each team took turns running 10 play of offense and 10 plays of defense starting at the 30 yard line. Both teams tallied one touchdown in this portion of the contest with the Nicholas County score coming on a one-yard run by Matt Moore.
Princeton scored on a long 70-yard run. "We had a defensive breakdown on that play," said NCHS Head Football Coach Gene Morris.
The two teams then played down and distance for the second portion of the scrimmage. The Tigers outscored the Grizzlies four touchdowns to two.
Richwood's Mullens records
hole-in-one; Jacks win three matches
By Pat Hanna
The Nicholas Chronicle
Mason Mullens saw his tee shot on the par 3 hole disappear, but he wasn't sure where it ended up.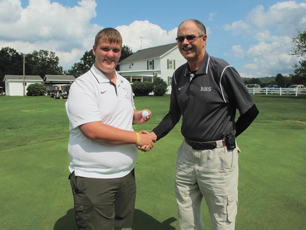 Richwood junior Mason Mullens (left) is congratulated by Richwood High School golf coach Dave Hicks after recording a hole-in-one during a match with Webster County on Aug. 14 at Cherry Hill Country Club. Mullens used a 9-iron to ace the par 3, 137-yard ninth hole.
"I thought it went off the back edge of the green," he said.
But the reaction of a handful of people closer to the green told him otherwise. It was then he realized the ball had disappeared into the cup.
The Richwood junior recorded the hole-in-one, his first, during a high school match with Webster County on Aug. 14 at Cherry Hill Country Club.
He was playing in a foursome with teammate Braden Johnson and two Webster County players, Tony Mazzella III and Hayden Williams, when he stepped to the tee on the 137-yard ninth hole.
With a slight wind in his face, Mullens decided not to use his normal pitching wedge and pulled a 9-iron from his bag, all the while looking at the back left hole location.
"I'd been coming up short on that hole the last couple of days, so I clubbed up," he said. "I hit it really good. It went a lot higher than normal.
"When the ball was halfway there, Tony said, 'It's in the hole,'" Mullens added.
The ball landed about 5 feet past the pin, but instead of going off the back edge, it spun back and rolled into the hole.
Richwood coach Dave Hicks, in his 28th season, said it was the first hole-in-one ever by one of his players in a match.
Late change sends RHS to
Liberty Raleigh for scrimmage
By Pat Hanna
The Nicholas Chronicle
Dinner in Richwood turned into breakfast at Glen Daniel on Saturday, Aug. 16.
The Richwood High School football team was set to host fellow Class A member Gilmer County at 5 p.m. Saturday in its first preseason scrimmage.
But during a Meet the Team practice on Thursday night, Aug. 14, the Lumberjacks were informed that Gilmer County would not be coming to Richwood. Titan officials said a number of preseason injuries had left them with a lack of healthy players.
RHS coaches immediately took to their phones in an attempt to find a replacement. They then learned that Midland Trail, also because of injuries, had been forced to pull out of a scheduled scrimmage on Saturday at Liberty Raleigh.
Minutes later, Richwood and Liberty struck a deal whereby the Lumberjacks would travel to Glen Daniel on Saturday for a 10 a.m. scrimmage. RHS players reported to Dean Memorial Field at 7:30 a.m. Saturday to board buses for the two-hour trip.
On the field, Class AA Liberty scored three touchdowns and a pair of two-point conversions during the varsity portion of the scrimmage. Richwood was unable to cross the goal line.
"We weren't prepared for a long bus ride, but I'm not going to use that as an excuse," RHS coach Jason Rogers said.
"We had some positives and some negatives," he added. "We've got some things to work on. There were some things we did OK.
"Liberty's a good team. They're going to win some games this year."
Rain stays away this time for Rotary Club Golf Classic
By Pat Hanna
The Nicholas Chronicle
Despite windy conditions and menacing clouds that rolled in periodically, the rain that had been in the forecast held off this time for the Summersville Rotary Club.
A year after hours of heavy rain saturated the course and left it unplayable, the Rotary Club's eighth annual Golf Classic started and finished on Saturday, Aug. 9, at Cherry Hill Country Club in Richwood, much to the delight of the 80 golfers and others on hand for the event.
Retired Marshall University football coach Bob Pruett was all smiles. He returned this year as the tournament's guest speaker.
"This was a lot of fun," he said in remarks following golf and a steak dinner. "Last year, there was a lot of rain. But today was awesome. I was born and raised in Beckley, and it's a blessing to be able to come here.
"You need to give yourself a hand for what you're doing for the community," he told the Rotarians.
Proceeds from the event fund a number of local causes, including scholarships.
Pruett brought with him a football with the Marshall logo and autographed by a number of former Thundering Herd players who went on to play in the NFL, including Chad Pennington, Byron Leftwich, Troy Brown, Chris Crocker, Doug Chapman, Chris Massey and John Grace.
Raffle tickets will be sold on the football until the winner is drawn on Sept. 9.
Nicholas County Youth Wrestling
accepting coaching applications
Nicholas County Youth Wrestling is accepting Head Coach and Assistant Coach applications. Application forms can be found online at tinyurl.com/ncywcoachapp2
Deadline for applications is Sept. 1 and must be emailed to scotthol@wildblue.net.  If you have any questions, please email meghanshaw2629@yahoo.com.